Yeki bood, yeki nabood. There was one, there wasn't one.
These famous words have served as the gateway into millions of stories, told and retold by thousands of Persian storytellers for centuries. Four simple words- with massive significance.
As Farzaneh Milani explained, "at the threshold of every story there is a warning that truth is elusive, that there is always another story, another side to the story. More important, it is a reminder that behind every storyteller stand several unacknowledged storytellers". On October 22, 2015, students, faculty, and staff gathered in the Small Collections Library at the University of Virginia to celebrate Farzaneh Milani's scholarly work and contributions, as the 2015 recipient of the Elizabeth Zintl Leadership Award.
A writer and journalist, Elizabeth Zintl held various positions at the University of Virginia, including her service as the Chief of Staff in the President's Office. Zintl passed away in 1997, but her memory is honored and celebrated annually through the presentation of this award. Sponsored by the Maxine Platzer Women's Center, the award is presented annually to a female at the University of Virginia, honoring their professionalism, creativity, and commitment to their research, students, and their overall impact on the community. Previous recipients include senior associate director of athletics Jane Miller (2014), and dean of the College and Graduate School of Arts and Sciences, Meredith Jung-En Woo (2013), Vice Provost for Administration and Chief of Staff And a Webb (2012), and others whose leadership has inspired women and men at the University and beyond.
The evening included a thoughtful introduction by Jahan Ramazani, Edgar F. Shannon Professor of English at the University, who expressed his admiration for Milani's "sheer passion and devotion" to her students. He went on to applaud Milani's character and "innovative, ground-breaking, and sometimes provocative" scholarship.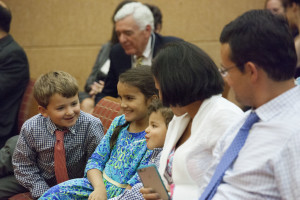 Currently serving as the Chair of the Department of Middle Eastern and South Asian Languages and Culture, Milani is a renowned scholar, teacher, and author, having published over 100 works in Persian and English, including prize-winning books on Iranian women writers (see Words not Swords: Iranian Women Writers and Freedom of Movement and Veils and Words: the Emerging Voices of Iranian Woman Writers). However, it is Milani's mentorship, friendship, and integrity rather than mere professionalism that filled the room with faces of admiration, gratitude, and the utmost respect for Milani and her family, seated in the front row.
Born in Iran and having moved to the United States, Milani recalled finding refuge from the brand new world to which she had immigrated in literature. She explained, "I felt disoriented like a cat without whiskers; when I looked every which way for a sense of familiarity and belonging; when, paradoxically, I became an Iranian after leaving Iran, books came to my help". Her scholarship and passion are rooted in her experiences as a woman, an immigrant, and an explorer of words.
Tearful, humble, and with a signature infusion of tasteful humor, Milani spoke gracefully and poetically about the transformative power of education, the importance of relationships and mentors, and the ways in which words and stories can remove physical barriers and introduce new worlds to ordinary people. She explained, "I grew up mesmerized with poetry and stories. On the wing of words; on the magic carpet of books, I crossed borders without a passport, traveled to faraway lands, met different people, commuted between different languages and cultures". Her words speak for themselves. Farzaneh Milani is an exceptionally deserving recipient of the Zintl award, and one who we are lucky to host at our University. If you are interested in hearing more, check out her class, offered next semester in the Persian department! PERS 3020: Readings in Modern Persian Prose Fiction.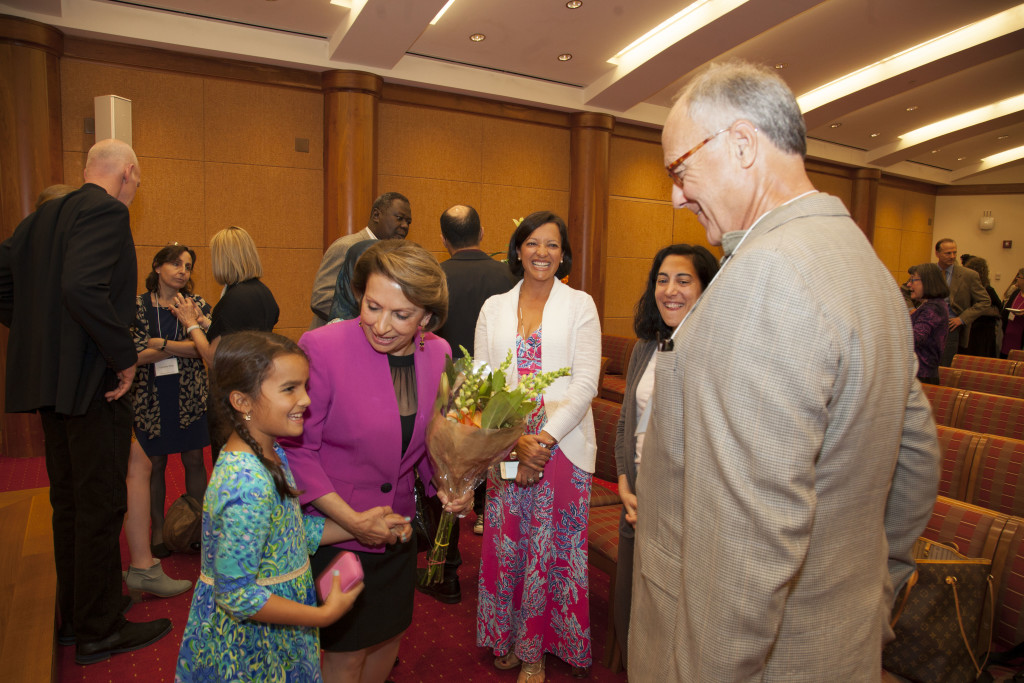 Click here for more pictures from this years Zintl celebration.